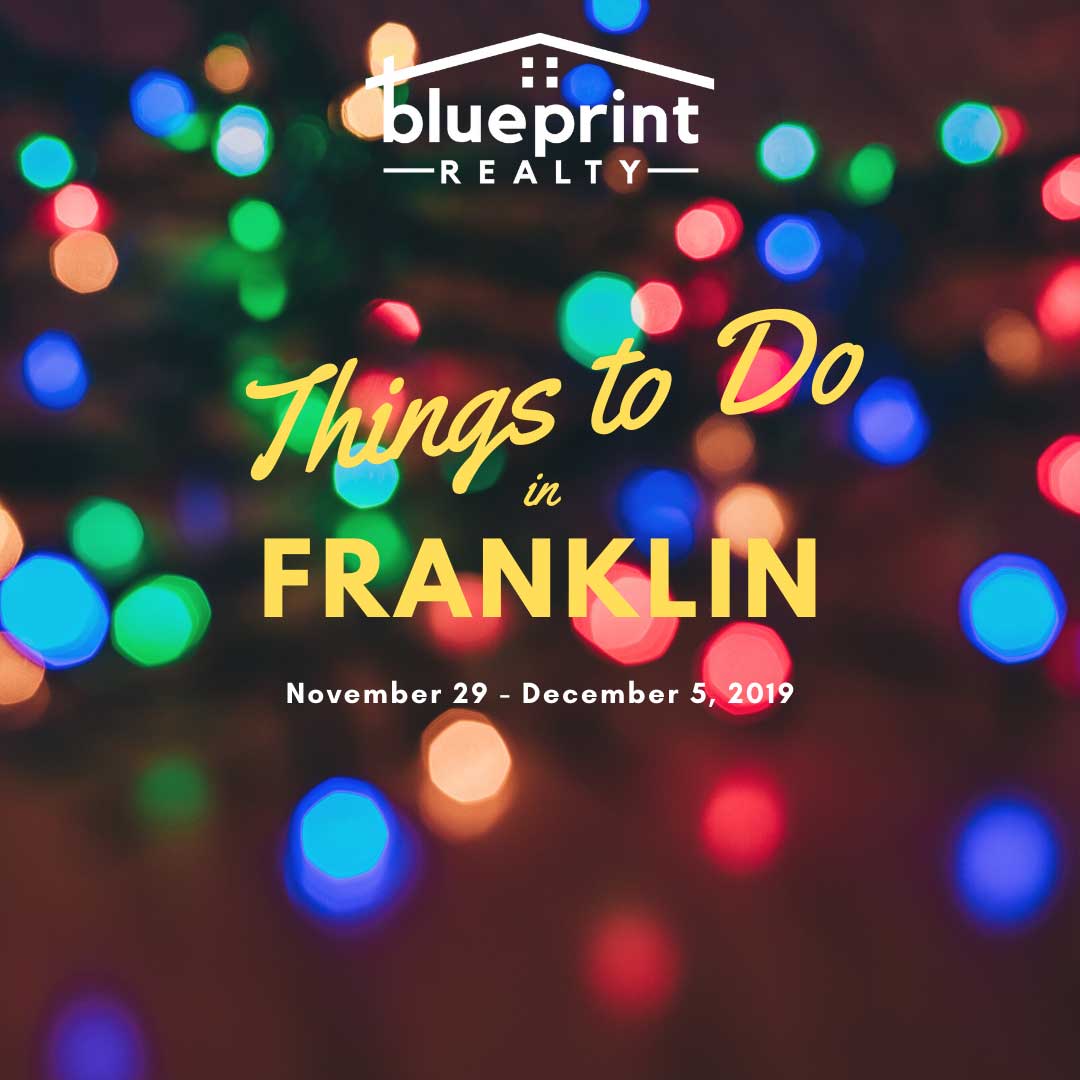 Things to Do This Weekend in Franklin
November 29 – December 5, 2019
What's going on in Franklin this weekend and in to next week? 
Here are some highlights courtesy of Blueprint Realty.
Friday, November 29, 2019
Please remember to Shop Local on Black Friday!!
Family Friday 2019 10am – 2pm
The Loveless Barn at Loveless Cafe
Free Photos with Santa & Mrs. Claus, Face Painting, Kids Crafts, Inflatable Slides, & more!
Franktown Festival of Lights  6pm – 10pm
Williamson County Ag Center
Open every night from Nov. 22 – Dec. 28
Cheekwood Holiday Lights  5pm – 10pm
Cheekwood  1200 Forrest Park Drive  Nashville
Open every night Nov. 23 – Jan. 5
Saturday, November 30, 2019
155th Anniversary of the Battle of Franklin
5am & 8am – Battlefield tours
9am – 4pm – Guided Tours available at Carter House & Carnton Mansion
11am – Battle Tour of Fort Granger – meet at The Historic Franklin Masonic Hall at 11am for a 2 mile walk
2pm – Special Documentary viewing at The Historic Franklin Masonic Hall
4pm – Sunset Illumination Ceremony at Carnton Mansion
5pm – 7pm – Self Guided Tours available at Carter House & Carnton Mansion
5pm – 7pm – The Historic Franklin Masonic Hall will be open to the public for tours to commemorate the anniversary
5pm & 7:30pm – Showing of The Soldier's Song in Building 6 at The Factory in Franklin
Franklin Farmers Market  9am – 12pm
The Factory
Monday, December 02, 2019
Budget Committee Meeting – Williamson County 4:30pm
Conference Room @ Williamson County Admin Complex – 1320 West Main St. Franklin
Tuesday, December 03, 2019
Neighborhood Meeting for The Madison Franklin – Franklin – 6:30pm – 7:30pm
Franklin City Hall Board Room – 109 Third Ave. S. Franklin
Wednesday, December 04, 2019
Highway Commission Meeting – Williamson County – 8:30am
Highway Dept. Auditorium – 302 Beasley Dr. Franklin
BOMA Work Session – Franklin – 6pm – 7:30pm
Franklin City Hall – 109 Third Ave. S. Franklin
Thursday, December 05, 2019
Board of Adjustments and Appeals – Franklin – 7:30am – 8:30am
First Floor Conference Room – Williamson County Admin Complex – 1320 West Main St. Franklin
Visit with Santa 4pm – 7pm
Main Library – 1314 Columbia Ave. Franklin
Board of Zoning Appeals – Franklin – 6pm
Franklin City Hall – 109 Third Ave. S. Franklin