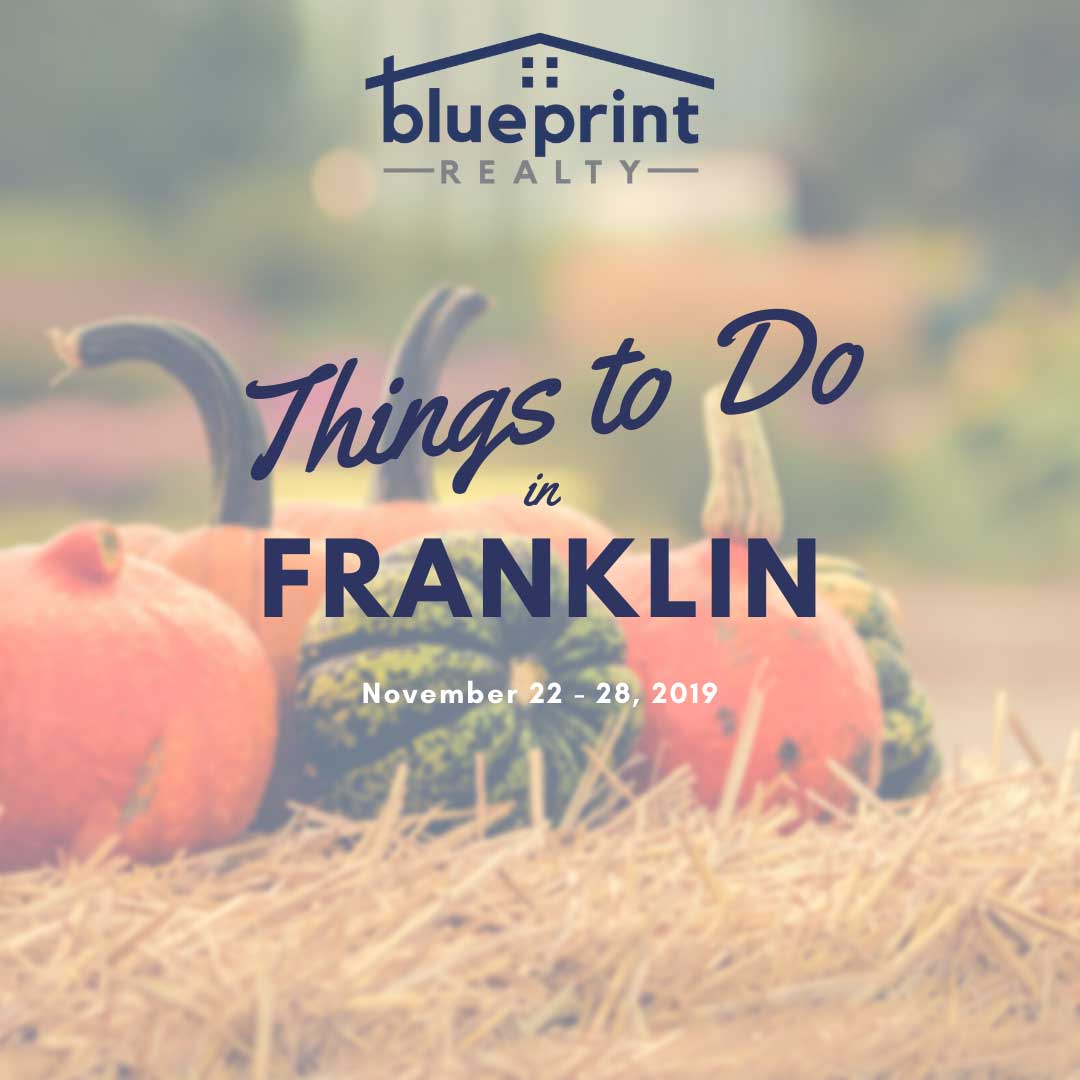 Things to Do This Weekend in Franklin
November 22 – 28, 2019
What's going on in Franklin this weekend and in to next week?

 
Here are some weekend highlights courtesy of Blueprint Realty.
Friday, November 22, 2019
FSSD Schools
Dismissing 3 hours early for Thanksgiving Break.
Students return back to school at normal times on Mon. December 2nd
Please watch for children!!  
Franktown Festival of Lights  6pm – 10pm
Williamson County Ag Center
Open every night from Nov. 22 – Dec. 28
Saturday, November 23, 2019
Franklin Farmers Market  9am – 12pm
The Factory
Cheekwood Holiday Lights  5pm – 10pm
Cheekwood  1200 Forrest Park Drive  Nashville
Open every night Nov. 23 – Jan. 5
Monday, November 25, 2019
FSSD and WCS are closed all week for Thanksgiving Break.
Students return at normal times on Monday, December 2, 2019
Please watch for children!!  
Thursday, November 28, 2019
HAPPY THANKSGIVING!!

 
All County and Franklin City Offices are closed Nov. 28-29, and will reopen on Monday, Dec. 2.
All Library locations are closed from Nov. 28-30 and will reopen on Sunday, Dec. 1.
All Parks and Recreations facilities are closed today. 
Some Parks & Recreations facilities will reopen on Friday, Nov. 29 with all others reopening on Saturday, Nov. 30.  Check with your local facility for more details.
Please remember to Shop Local on Black Friday!!